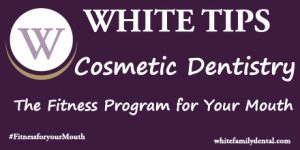 What exactly is Cosmetic Dentistry? At first glance, many people relate it to cosmetic surgery that's used strictly for the sake of improving one's appearance. While it's certainly true that cosmetic procedures improve appearance; there's a great deal of benefit that goes beyond the beauty on the surface.
Let's take a different look when we compare it to our body.
General, or family dentistry may be compared to seeing your physician for a regular check-up or when a problem arises. A general dental approach is to fix what's broken and to maintain general health. The focus is on acceptable health and well-being. We're happy to provide that to our patients every day, and cosmetic procedures are used in general dentistry.
Cosmetic dentistry goes further to take your oral health to a higher level of fitness that provides the added benefit of improved appearance. Form follows function.
Like the exceptional doctor who is more highly focused on helping you to lose weight, sleep better and feel better as part of an improved health score; the cosmetic dentist will help you achieve a better smile in a mouth that provides you more comfort while you eat and more confidence in all aspects of your life.
When you eat and sleep well and exercise your body regularly, you feel better and look better. You carry yourself with strength and confidence, and it shows to the people you meet. In addition to a greater internal feeling, the impact has a positive effect on your daily life.
A similar effect is achieved through cosmetic dentistry. When teeth are straightened and metal fillings are replaced with porcelain onlays, your teeth will chew and release food better. When weak teeth are replaced with a crown or a bridge, you'll be more eager to have dinner with friends and clients. When your teeth feel smoother and appear brighter, you'll gain more confidence in your smile and your overall appearance.
When your mouth achieves a higher level of fitness, your life will be happier and healthier. That will make anybody want to smile more.
Not all general dentists are skilled at cosmetic dentistry because the science evolves swiftly. At White Family Dental, we continue our education in the most advanced procedures so we can provide you with truly leading edge cosmetic dentistry, right here in Lancaster County.
Call us today. We'll help you gain the smile you've always dreamed about.
You can learn more about our unique approach to cosmetic dentistry HERE