Invisalign Clear Braces for Straighter Teeth
If you'd like to have straighter teeth, but don't like the thought of metal braces, then Invisalign may be for you.
The Invisalign process involves a series of clear aligners that you wear like an athlete's mouthpiece. They're virtually invisible; you'll forget that you're wearing them.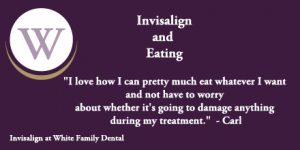 They're made up of a special material called Smart Track® that's designed to straighten specific teeth in a pre-determined sequence based on a plan that we develop just for you.
We begin with a consultation to make sure Invisalign is right for you, then we'll 'map out' your mouth and develop the plan.
Before you know it, we'll have your aligners for you. There will be a number of them that you'll wear for 20-22 hours a day, and you'll replace the aligners as each one completes its task. Many people will change to the next aligner as quickly as every week. On average, the process will take about a year.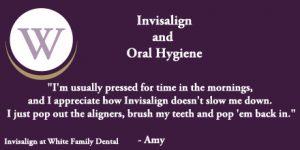 Benefits of Invisalign
Virtually invisible
Comfortable to wear
Removable to eat, brush and floss
No metal brackets or sharp wires
No rubber bands
Easy to keep clean
Fast and simple
Invisalign is a great option for teens because they're so easy to maintain and their friends won't be able to tell that they're wearing them. And, there's no discomfort from tightening wires and wearing rubber bands. Invisalign won't interfere with their social life, or their sports activities.
Call us today for a consultation to see if Invisalign is right for you. You'll be glad you did!