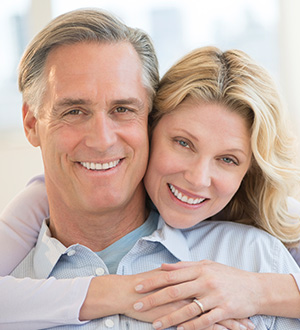 Dental Implants Provide Relief from Common Discomfort
We understand that missing teeth can be a source of both physical discomfort and emotional distress.
Physically, it affects our ability to properly chew food. This is important not only when it comes to the comfort and function of eating, but it can also impact the proper digestion of food. Poor digestion can contribute to problems with our overall health.
Emotionally, missing teeth can affect our social life and self-esteem. We may be reluctant to smile, avoid our favorite foods and shy away from dinner with friends because of pain from a damaged tooth or the extra care needed to eat because of missing teeth. For some, their speech is affected, too. What's more; when a tooth is lost, then so is some of the support structure of the jaw. This tends to weaken the jaw and may alter one's appearance.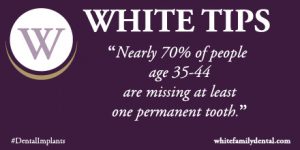 If you have missing teeth, you're not alone. Nearly 70% of people age 35-44 are missing at least one permanent tooth. This may be due to decay, an accident or an extraction. On average, adults have more than 3 missing or decayed teeth.
Today's dental science has made enormous advances in the ability to improve conditions that people struggle with on a daily basis. And it can be done in a way that provides the most comfort for patients who fear dental procedures.
You can now have a full set of permanent teeth; natural teeth living side-by-side with dental implants that are made right here in our hometown. They look, act and feel like real teeth. And they can last a lifetime.
What is a Dental Implant?
A tooth is more than what appears on the surface. The root of the tooth not only supports the structure of that particular tooth, but also strengthens the jaw around it. When it's removed, the jaw is weakened.
A dental implant is a titanium root that is inserted into the jawbo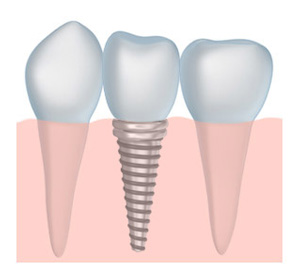 ne and fills the void that was created by a lost tooth. Once the implant fixture is inserted and the area is permitted to heal, we'll attach a crown or a bridge for a brand new, fully functional and permanent tooth.
We perform the implant procedure in our office with anesthesia appropriate for your comfort. There may be some discomfort for a few days afterward, but most of the time it's handled with minor pain medication. Then we'll give it a few weeks for your gums and bone to heal. When you return, we'll make a new porcelain crown or a bridge here in the office and you'll find that it's a lot like a natural tooth.
Issues Addressed by Dental Implants
One or more missing teeth
Unstable Dentures
No support for bridges
Benefits of Dental Implants Include:
Stability
Support for a healthier jaw.
Support for adjacent teeth to prevent migration.
Support for a new porcelain crown.
Anchor for a new bridge or for dentures.
Appearance
Dental implants with a crown or a bridge look very much like natural teeth.
Durability
Dental implants can last a lifetime; far longer than dentures.
Comfort
Dental implants feel just like natural teeth.
Bone Health
Since they fill the void in the jawbone, dental implants prevent bone loss that leads to collapsed features and other issues.
Speed
We have a little mill that makes your new porcelain tooth right in our office. The delays tied to measuring and sending an order off to a lab are not necessary for us. The process is much faster at White Family Dental.
Are Dental Implants Right for Me?
Dental implants have proven to be the ideal solution for many people who've suffered with missing teeth because of fear or uncertainty. The only way to know if it's right for you, is to come by and see us. Our goal is to give you the best information about all of the options available to you, then let you decide what is best for your oral health.