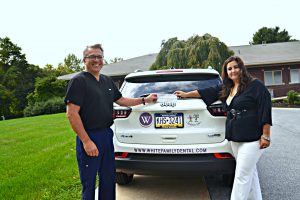 Did you have your teeth whitened during our Smiles for Life Campaign?
If so, thank you!
Our Smiles for Life campaign is an annual activity that we conduct for the benefit of local families with children, and for children worldwide. We've participated in the campaign since the late 1990's and thanks to you, we've contributed more than $500,000.00 over the years!
This charity is special in a number of ways.
First, every single penny spent by our teeth-whitening patients goes directly to the charities.
Half of the funds stay right here in Central Pennsylvania. It's more than just giving money for food to families; though that is certainly an honorable effort. By funding the Lancaster-based Power Packs Project, we're able to help educate young mothers and fathers on how to budget, purchase and prepare nutritional meals for their children. The result is closer families and healthier children who perform better in school.
The other half of the campaign funds support the North American Smiles for Life Campaign, which funds efforts to help children around the world. Smiles for Life is a charitable venture by The Crown Council.
The Crown Council is an association of dentists who work together to improve dental science and practices while fighting oral cancer.
So, as we learn how to make dental science better, we're also improving the lives of those less fortunate than we are, here in Lancaster County and around the world.
And it's all because you allowed us to brighten your smile!
So how much did we generate this year?
More than $26,000.00!
Over $13,000.00 stayed right here in Lancaster County!
We couldn't have done it without you!
Thank you!