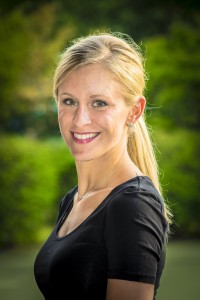 Megan R. Beam, DDS
Dr. Megan Beam joined the team of White Family Dental in July of 2015. She treats patients at our dentist offices in Elizabethtown and at Masonic Homes.
Born and raised in Bridgeport, West Virginia as Megan Kinkelaar she loves that Elizabethtown has the small-town lifestyle that she cherishes, while being convenient to Harrisburg, Lancaster and the bigger cities in the region. In fact, she embodies the small town values. In college, she was a varsity cheerleader and the Homecoming Queen.
She loves to work with her hands, to help others and to educate her patients. Her love of dentistry began when she was twelve years old; it clicked for her when a local boy got his braces off and she was amazed at the difference in his smile. She thought right then "I wanna make smiles like that!"
Dr. Megan graduated from West Virginia University with a Bachelor of Arts degree in Chemistry and a minor in Philosophy. She led cheers for the Mountaineers on the field and is still an avid fan of the alma mater that she shares with Dr. Caleb Beam and Dr. White.
But her education wasn't finished in Morgantown. Upon graduation, she enrolled at the West Virginia School of Dentistry and was active with the American Student Dental Association, the WVU Pediatric Dental Club and the Delta Sigma Dental Fraternity. True to her hometown values, Dr. Megan led fund raising and special events including a very worthy charity known as Operation Smile; which benefits children in need of cleft lip surgery and cleft palate surgery.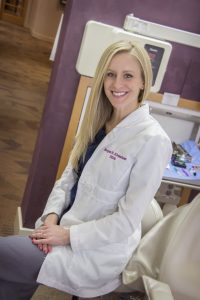 Dr. Megan Beam on Making Smiles Better:
"It's why I get up in the morning."
The kind heart of a small-town girl who studied philosophy flourishes in her role as a dentist. "It's dynamic" she says of her job. Every day is different, and she wants to make people happy. "It's why I get up in the morning." It's very important for her to excel at her work with every patient, and to do it in a way that educates them along the way. She's had a number of dental procedures herself and has more planned; she's quite familiar with a patient's perspective of dentistry.
Dr. White "Let's us be ourselves and work together…you can't do that in a big practice." Her comment highlights what makes White Family Dental stand out from both the nationwide dental corporations and the small office dentists. At White Family Dental, it's a team effort that encourages everyone to excel at their craft in a way that works best for them and their patients. When you love what you do, nobody will be better at it than you. Which is why she said to her fiancée in 2015, "Let's be the dentists we want to be in E-town!"
In her spare time, Dr. Beam loves to bake, to travel and to cheer on the Mountaineers with her husband, Dr. Caleb Beam and their furry friend Miley, the Belgian Shepard.
If you or a family member are reluctant to make an appointment, call today. Dr. Beam will ease your concerns.