Root Canals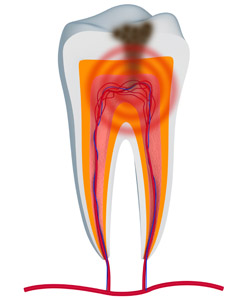 A tooth infection that has gone too deep is very painful and can cause a range of potentially debilitating issues. Thankfully, with modern dental technology, we can use root canal therapy to help save infected teeth and promote good oral health.
If you are experiencing any of the following–and especially more than one of these symptoms–it may be a sign that you may need a root canal:
Persisting Chronic Toothaches | If you have a toothache that just won't go away, your body may be fighting tooth infection. Root canal therapy can help relieve your toothache and get you back on the path toward good oral health.
Abscesses | If an abscess has formed near the base of one your teeth, your tooth is most likely battling an infection. A root canal can help remove the abscess and stop the infection from getting worse.
Swelling Around Teeth | Often, swelling around teeth is indicative of a tooth infection. If you have noticed swelling around one of your teeth that just doesn't go away, there is a chance you have a deep infection that may require root canal therapy.
Severe Sensitivity | Although sensitivity is not always a sign of a deep tooth infection, if you are experiencing severe sensitivity along with other symptoms, a root canal might be necessary.
Our caring team at White Family Dental can use root canal therapy to treat these symptoms and more. Root canal therapy involves removing the diseased or damaged pulp tissue, carefully cleaning out the tooth, and then professionally sealing it to help preserve your tooth longer. In many cases, a beautiful porcelain crown is attached to increase your tooth's strength and functionality and prevent further decay.
Root canal therapy can relieve painful tooth infections and preserve natural teeth. We are excited to offer this fantastic treatment option to our patients, and we're pleased to see the positive impact it has had on many lives.
Have questions about root canal therapy? Contact us today for more information.