Dental Veneers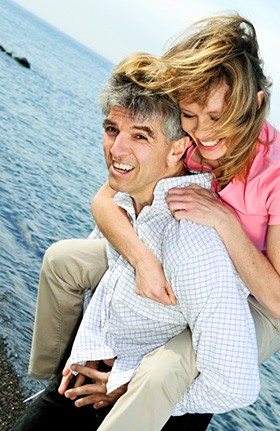 Do you have teeth that are chipped, cracked, discolored, misshapen or crooked? Do you have gaps in your teeth that stop you from having the beautiful smile you desire? If your answer is yes to either of these questions, then we may have a great solution for you.
Dental veneers allow us to fix cosmetic issues that frequently plague our patients, helping us to restore the beauty of their smiles. Using dental veneers we can improve the appearance of your smile safely and effectively.
If you have any of the following issues, dental veneers could be a great option to help you gain the gorgeous smile of your dreams:
Discolored Teeth | Having a just a few discolored teeth, or just a single discolored tooth might not seem justification enough to have all of your teeth whitened–especially if your teeth are sensitive. Using a dental veneer, we can correct tooth discoloration without the need for teeth whitening.
Chipped Teeth | If one or more of your teeth are chipped, our beautiful porcelain veneers can be used to safely fix this problem.
Cracked Teeth | If you have cracked teeth, in many cases a porcelain veneer can be used to help fix this type of issue so that your smile can be all that it can be.
Gapped Teeth | Having gapped teeth is an unsightly problem that can be a source of aggravation and embarassment. We can successfully fix many gapped teeth situations using our dental veneers.
We are proud to be able to offer this wonderful cosmetic dental service to our patients and their loved ones. If you want to know more about dental veneers, or would like to be consulted about receiving one or more veneers, please contact us today!